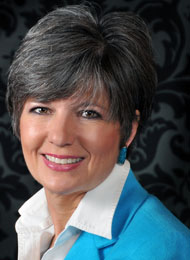 Kelly Rossman-McKinney
CEO and Principal, Truscott Rossman
Kelly Rossman-McKinney is a certified crisis communicator, a nationally accredited public relations counselor and a member of the Public Relations Society of America's distinguished College of Fellows.
With John Truscott, she heads up Truscott Rossman, a Lansing, Mich.-based strategic communications firm with locations around the state. Truscott and Rossman have been ranked the No. 1 and No. 2 most effective public relations professionals, respectively, each of the four times MIRS/EPIC-MRA has surveyed state capitol insiders—in 2004, 2007, 2009 and 2011.
A motivational speaker, Rossman-McKinney chairs the Michigan Chamber Foundation and serves on several other boards, including the Michigan Political Leadership Program, the Michigan Society of Association Executives and the Lansing Economic Development Corporation. She meets twice a month with members of the Michigan State University chapter of the Public Relations Student Society of America, advising and mentoring dozens of PR students every semester as one of the chapter's professional advisors.
She has been honored with many awards as a PR professional and woman business owner.