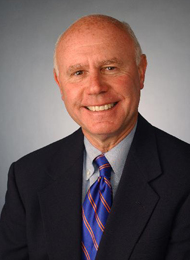 David Rubin
Professor and Dean Emeritus, Newhouse School
David M. Rubin, formerly the dean of the S.I. Newhouse School of Public Communications at Syracuse University, is now a member of the school's full-time faculty. He teaches Media and Society, Communications Law and Arts Journalism. He was previously a member of the faculty and chair of the Department of Journalism at New York University.As dean of Newhouse he oversaw construction of Newhouse 3, a $32 million, 74,000-square-foot addition to the Newhouse School complex, which includes a state-of-the-art experimental lab for new approaches to online news delivery as well as student services offices, new classrooms, an expanded dining center, a research center, a new career development center and a 350-seat auditorium. Designed by the New York City firm Polshek Partnership (now Ennead Architects), the building has won a variety of awards and is best-known for having the words of the First Amendment etched in its glass facade.
During Rubin's tenure he established an office of external relations that developed a model career development center and alumni relations operation, as well as a development program that significantly increased annual fund giving. Major gifts secured under his leadership include $15 million for the construction of Newhouse 3 and $10 million to guarantee the future health of the school, both from the from the S.I. Newhouse Foundation; $500,000 from alumnus Arthur Liu G'66 to establish the Liu Scholarships in multicultural communications for graduate students; and $1.5 million from the Knight Foundation to establish the Knight Chair in Political Reporting.  Rubin also worked with Professor Robert Thompson to create the Bleier Center for Television and Popular Culture, supported by a gift from alumnus Ed Bleier '51.
He is currently the host (and co-creator) of "The Ivory Tower Half Hour," a regular round-table discussion of public affairs that airs on WCNY-TV. It is the highest rated public affairs show (with a five share), exclusive of news broadcasts, in the central New York television market. He also writes a column once a month for the Syracuse Post-Standard. He currently serves on the board of WCNY-TV.
In 1979 he headed the Task Force on the Public's Right to Know for the President's Commission on the Accident at Three Mile Island. The group produced a 300-page report to President Carter that assisted electric utilities in preparing a communications disaster plan to address future nuclear power plant accidents. The report was requested by the Office of Emergency Management in New York City in late 2002 to help emergency planning in the post-9/11 environment.
He twice served as a Pulitzer Prize judge, judging "Explanatory Journalism" (1998) and "Public Service Journalism" (1999).
He regularly reviews opera for the website Cafemomus.com, where his work is archived.